See Cherie – Cosmetic Renovations For Profit Course
---
Supplement Your Income, Get Financial Security & Stop Living With Money Worries Through Renovations.
Do you watch renovation shows, see others make a tidy profit & wish you could do the same? Do you like the idea of renovating ugly fixer-uppers to supplement your income? Or are you just looking for ways to build your wealth faster so you can retire comfortably with financial security & peace of mind? If so, welcome to Cosmetic Renovations For Profit.
Cosmetic Renovations For Profit is Australia's leading & most trusted renovation course for homeowners & property investors alike. The first of its kind in Australia, it's led by Cherie Barber, Australia's leading authority on Renovating For Profit. Personally developed by Cherie over the course of her renovating over 130 projects, it guides you, step by step, through the whole entire process of renovating for profit in a systematic, disciplined way where return on investment is your underlying goal.

The Complete Online Course That Teaches You How To Invest In Property The Smart Way.
Don't think you have what it takes to renovate a property? Don't be so sure! Our Cosmetic Renovations For Profit course will show you the exact steps of how you transform your property, even if you're a complete newbie.
In this extremely detailed & comprehensive course, you'll learn how to lock down your property strategy before you start anything. You'll discover how to find "investment grade" properties in "high capital growth" locations, and how to research those properties like a seasoned professional. You'll uncover where to find "fixer-uppers" with sky high profit potential and how to renovate strategically for maximum return. You'll also learn how smart investors leverage equity to keep building their portfolios, time & time again.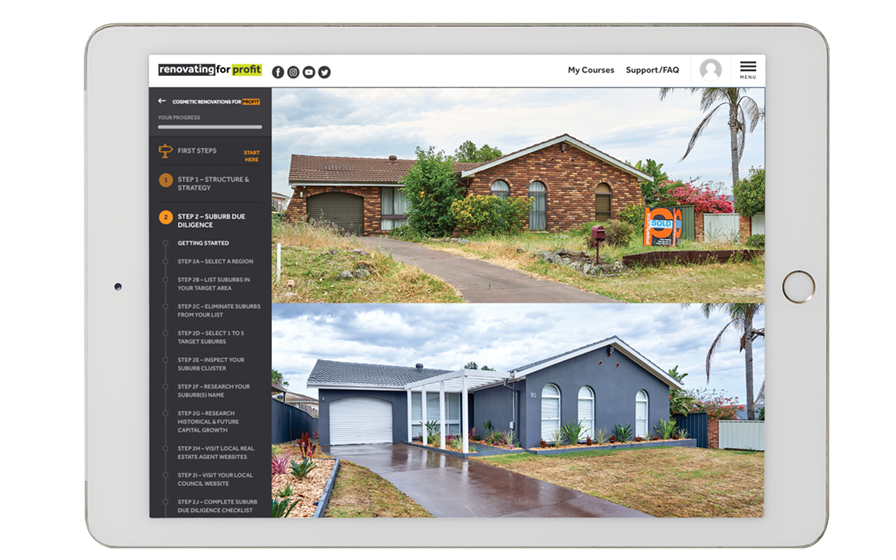 Discover How To Find Affordable Fixer-Uppers & Transform Them Into Life-Changing Profits.
Not sure what type of properties you should buy, in which suburbs & at what price? Cosmetic Renovations For Profit will arm you with expert knowledge on which locations and price points work better for cosmetics versus structural renovations. You'll be able to spot the "diamonds" from the duds and know how to assess the feasibility of a project, all before you sign a Contract of Sale.
Not sure how to project manage your reno? Not a problem. Uncover effective ways to "cookie cut" or "production line" your renovations for time, cost & process efficiencies. Master project management techniques that remove chaos, stress and a general fear of renovating. Knowing how to project manage your renovations effectively will save you time & money.
Set Your Property Goals & Decide On Your Strategy.
Know a "Good" Investment from a "Bad" Investment.
Evaluate A Property For Fix & Flip Or For Rental Income.
Identify Suburbs That Show Capital Growth Potential.
Determine The True Value Of A Property Using 6 Key Methods.
Methodically Research A Property In Absolute Detail.
Master The Property Negotiation & Settlement Process.
Project Manage Your Renos For Time, Cost & Process Efficiencies.
Sell Your Property For The Highest Price Possible.
Manage Your Rental Properties To Minimise Costs.
9 Modules.
75 Video Tutorials.
Downloadable Course Notes.
Checklists, Templates & Calculators.
Mobile & Tablet Friendly Platform.
Private Facebook Community.
Student Q&A Webinars.
---
You will immediately receive a download link of our digital products via your order email.
If you have any questions regarding this product, please contact us by email: [email protected]
---